2011 News
Franky is looking for a home! (UPDATE: Franky was adopted in February 2012!)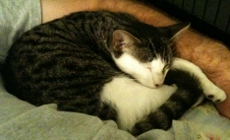 (9/21/2011)
Franky was recently caught on Rutgers' Douglass Campus and is ball of joy. He loves to play and is an instant purr machine once you pick him up. He is 5 months old and has already been neutered and given his rabies shot! He tested negative for Leukemia and has no fleas or worms. He is ready to be adopted right away. If interested please email Al at
njmac@aol.com
or visit Franky's Petfinder profile at:
http://www.petfinder.com/petdetail/20955409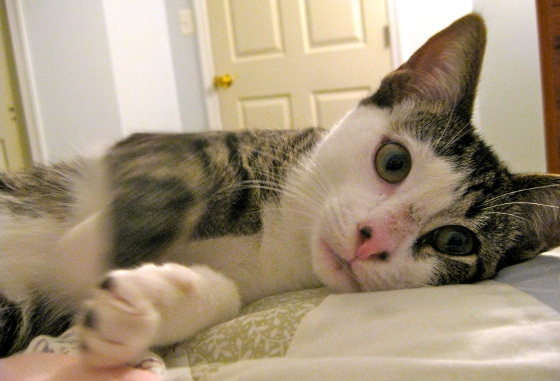 Franky

---
August 25, 2011: Rabies Positive Feline in New Jersey

(8/25/2011)
Princeton Animal Hospital & Carnegie Cat Clinic
has confirmed that a rabies-positive feline was brought to their practice by Animal Control this past weekend. This confirms that Rabies is currently in our area. Everyone should take special precautions around any wild animal including stray felines.
Please click here for more information
.
---
August 24, 2011: Kit Kat has been found!
(8/24/2011)
Kit Kat
(pictured right) is a 6-year old tortoiseshell cat who had been reported missing in the vicinity of Douglass Campus. We are happy to report that she has been found!
---
August 18, 2011: Pippa, Parka and Peanut Butter have been adopted!

(8/18/2011)
Pippa
,
Parka
, and
Peanut Butter
have all been adopted! These three adorable kittens were being fostered by a Rutgers graduate student on behalf of
Happy Paws Rescue
, a rescue organization founded this year by three Rutgers University alumnae. To see other adoptable cats and dogs, visit Happy Paws Rescue's website at:
http://happypawsrescue.org
---
Tuxie and Brownie have been adopted (and renamed Spike and Ducky)!
(6/16/2011)
Tuxie and Brownie (pictured at right), a fabulous brother-sister team rescued from Douglass Campus, have been adopted by a member of the Rutgers Community! Their new names are
Spike
and
Ducky
. We congratulate their new owner for adopting such sweet cats, and wish Spike and Ducky all the best as they head to their new home.
---
Lost Dog Reunited with Owner
(6/1/2011)
A lost dog who had been living in the ravine behind the Biological Sciences building on Douglass Campus has been reunited with his owner! Scarlet Paws volunteers worked with local animal control officers to help this dog find his way back home.
---
Cage-free Eggs Referendum passes!
(4/27/2011)
A Rutgers University Student Assembly referendum expressing a desire for Rutgers University Dining Services to serve eggs from cage-free hens passed with 66% of the vote.
Read about it in The Daily Targum
.
---
Dickens Found!
(4/11/2011)
Dickens, a cat who had gone missing in the vicinity of Nichol Avenue on the Cook/Douglass Campus, came home today! "A bit damp and hungry but otherwise he seems fine." Thanks to everyone who helped look for him!
Past News Archives